Noo Air Bundle
Women's Longevity & Menstrual Support
---
Seasonal changes call for a bundle of ReNoo and Noo Air that work harmoniously to strengthen absorption and potency, leading to full-body wellness.
ReNoo
We mix Eastern traditions with Western practices to create ReNoo, an all-in-one supplement that blends your comforting daily brew or smoothie with a boost of wellbeing. Our proprietary plant-based formula hits you at the gut, lowering sugar cravings, decreasing daily bloat, and kick-starting metabolic rates. A cup a day of this green tea meets barley drink will leave your skin feeling radiant and fresh.
Benefits
Stimulates metabolism
Combats bloating
Boosts immunity
Lowers sugar cravings
Maintains healthy skin
Youthful aging
Noo Air
Our herbal blend, combines Traditional Chinese Medicine (TCM) wisdom with three natural ingredients to clear nasal blockage, promote healthy airflow, and boost body immunity.
Benefits

Promotes healthy airflow

Eases congestion

Boosts immunity

Supports nasal allergy symptoms

Strengthens the body's response to common allergens
ReNoo: Proprietary Blend: Fermented Soybeans, Green Tea Powder, Fermented Coix Seeds, Fermented Brown Rice, Sesame, Cinnamon Powder, Vitamin C, Rosemary Extract, Citron Extract, Gymnema Sylvestre Extract, Young Barley Leaves Powder, β Carotene, Acerola Powder

Noo Air: Perilla Leaves, Reishi Mushroom, Mint
ReNoo: Take 1 pack for daily maximum results, and up to 3 packs per day if you're feeling like you need an extra boost. Mixed in water, tea or drink of choice.

Noo Air: Take 2 capsules together, with or without food, daily.
Frequently asked questions
Why should I take it together?

ReNoo provides all-around support for your everyday health, which provides a stronger foundation for Noo Moon to work on in addressing your specific menstrual issues.
What's the best way to take it?

You can take both of them together at the same time, any time you like on a daily basis.

For ReNoo, we love it in its more authentic form by just adding hot water! You can refill your water until there are no more granules left throughout the morning. Another great way to enjoy ReNoo is to blend it in your smoothie, lattes, or any other beverages you prefer.

For Noo Moon, you can take 2 capsules each time, once a day, on a daily basis.
How long does it take to show its affects?

Herbs have accumulated affects so it will take a bit of time. For some people it may be 4 weeks, and others it may be up to 6-8 weeks. Everybody is different so keep on a look out for those changes!
Reviews
Read what our customers are saying about NOOCI. Leave us a review and get 15% off your next order!
Customer Reviews
75
reviewers would recommend this product
Write a Review
Ask a Question
01/01/2023
Mindy D.

United States
I recommend this product
NOOCI Air Bundle
My overall experience with NOOCI has been outstanding. Their customer service is excellent. I emailed a few times with questions and I received a prompt helpful response. I been using the NOOCI Air Bundle for a couple of weeks. I have noticed less bloating and more energy. The right side of my nose has cleared up totally and I am hopeful I will experience the same with the left side. I am a believer in Chinese Medicine and I love how NOOCI has made it more accessible and easy to purchase and take.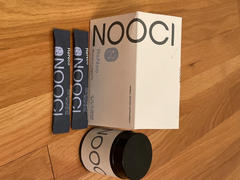 10/20/2022
Caroline Q.

United States
I recommend this product
Love this Bundle!
well as this NOOCI one. After 2 months of taking this, my sneezing fits have gone from a few daily (not really triggered by anything big – I had these fits just from existing and breathing!!) to an occasional flare up when I'm near a lot of dust. I don't sneeze anymore when I take my dog out! This bundle is a good deal because I really like the taste of renoo, and I've lost 3 pounds these past 2 months even though I haven't changed any part of my daily routine… the product doesn't even list weight loss as a benefit, but I guess I haven't craved sweets as much lately + I also feel less bloated. Will continue this combo and see if I can lose more weight
10/17/2022
M. Hollaus

United States
I recommend this product
Bad Taste
The taste of the powder is really bad but on the other hand it should have been expected since it is made of natural herb products. Will not buy again.
09/21/2022
Susan V.

United States
I recommend this product
Best ever!
Totally solved problem. Way more effective than zyrtec
08/17/2022
Denise L.

United States
Breathe easier
Live in a high pollen area. Been taking this daily and noticed less congestion than past seasons. Will buy again.
You May Also Like
Herbal formulas that work with your body to balance and restore.
Choosing a selection results in a full page refresh.