ReNoo
---
Formulated by doctors, our signature modern Traditional Chinese Medicine product is a blend of 11 plant-based ingredients, including fermented coix seed and fermented soybean to boost energy levels and combat bloating. 
This nourishing green tea tasting powder mixes easily into water, daily brew or smoothie to help optimize your overall health.
Stimulates metabolism and boosts energy levels

Combats bloating and aids digestion

Lowers sugar cravings

Boosts immunity

Supports youthful aging
Subscription Benefits
No long term commitment

Pause or cancel at anytime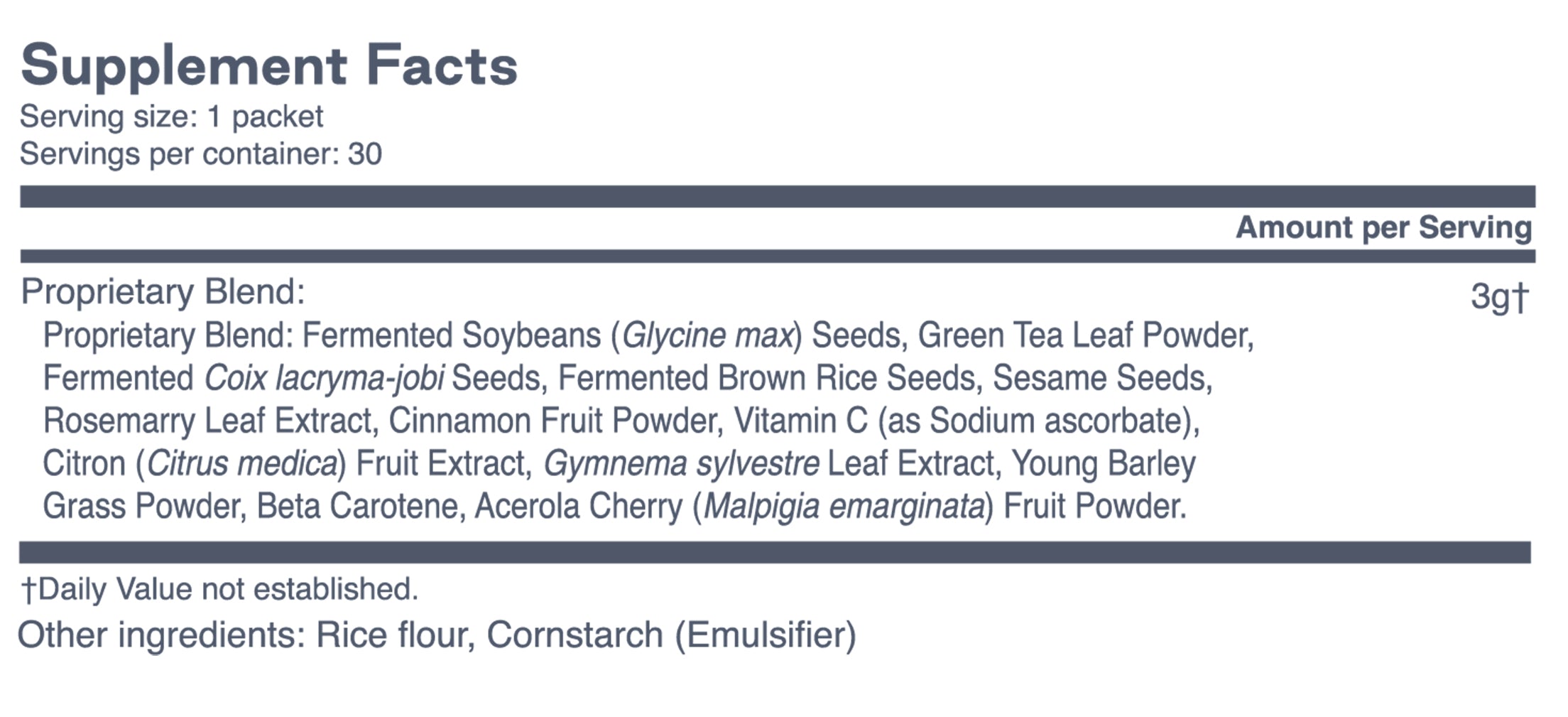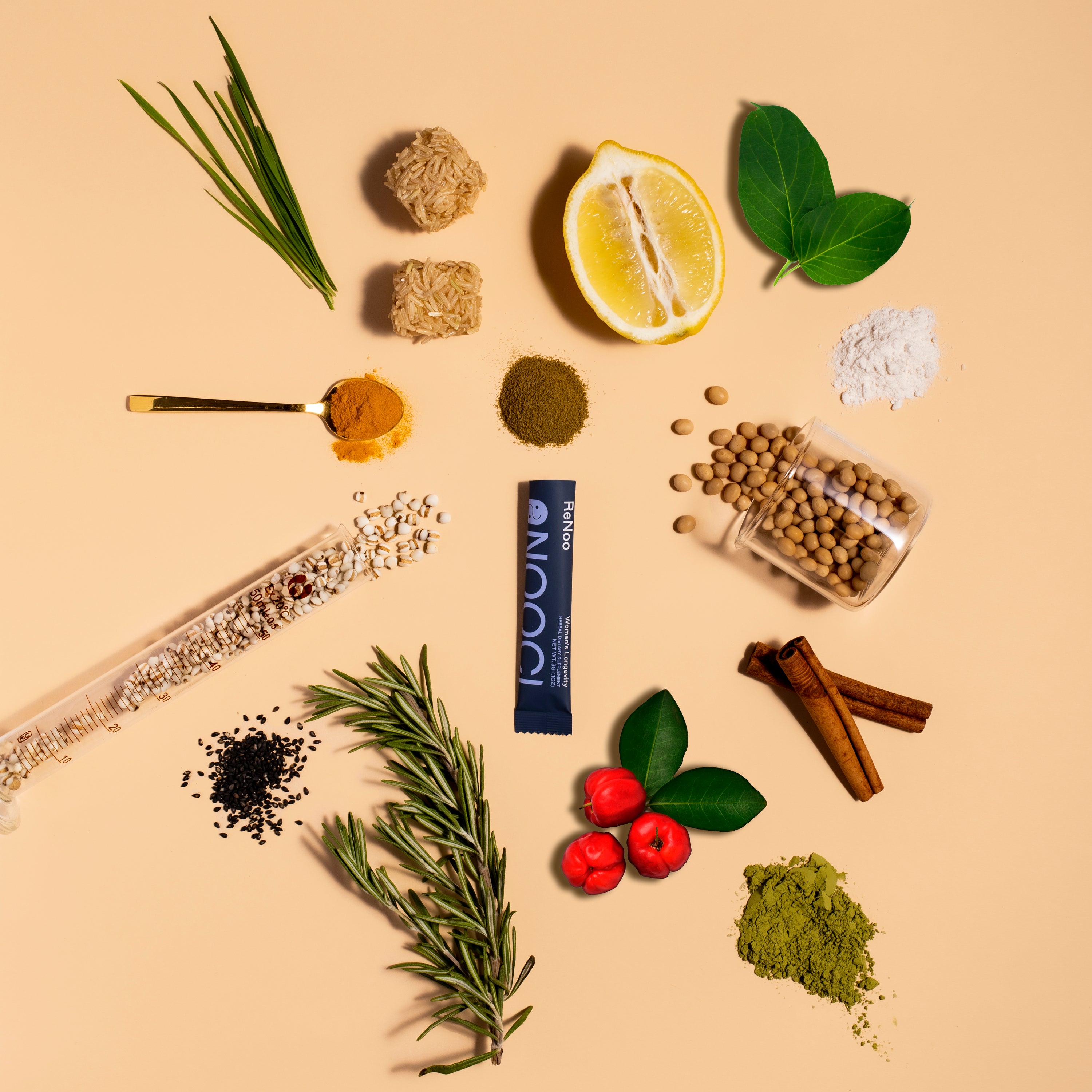 Why You Must Try This
Reduce Bloating + Digestive Support

ReNoo's trio of fermented ingredients – coix seeds, soybeans, and brown rice – are rich in probiotics which aid digestion and reduce bloating. Antioxidant-rich cinnamon also helps alleviate bloating by providing relief for indigestion and gas symptoms.

Kickstart Your Metabolism

Young barley grass and green tea work in tandem in boost your metabolism; young barley grass helps accelerate the metabolism of fat in the body and studies have shown that the caffeine and catechins found in green tea may speed up metabolism by helping you burn more calories.

Lower Sugar Craving

Gymnema Sylvestre combats sugar cravings by blocking the tongue's sugar receptors, and studies have shown those who took the herb before meals were less likely to indulge in sugary foods. Also found in ReNoo to help lower sugar craving: cinnamon, acerola cherry, fermented coix seeds, green tea, and young barley grass.
See What Experts Are Saying
"I really like NOOCI's products and their approach to formulations. My patients are always looking for easy solutions to maintain their well-being, which is why I recommend ReNoo - Women's Longevity. As a working mom with my own medical practice, my philosophy is less is more, and integrating easy routines is something I want all my patients to ingrain into their long-term health."

Dr. Wendy Wong

PhD, BCM

"As an Integrative Medicine physician, I am always looking for safe and effective treatments for my patients. Many prefer Traditional Chinese Medicine that is safe and natural. NOOCI does just that by providing effective herbal supplements that combine Traditional Chinese Medicine with modern science for relief from allergies (Noo Air) and painful periods (Noo Moon) as well as a wonderful remedy promoting overall wellness (ReNoo)."

Dr. Robin H. Miller

MD, MHS

"I am very excited about Nooci's modern TCM formulas.  So far I have found them to be great on their own as well as in combination with a classic patent or individualized formula.  For example, Re Noo with Gui Pi Wan or Bu Zhong Yi Qi wan can be a winning combination.  The same with Noo Air and Noo Moon. For example, I like Noo Moon for patients with deficiency and stasis patterns.  The individual ingredients are impeccably sourced so I feel confident recommending them."

Jillian L. Capodice

MS, LAC
Follow A Noo Wellness Path
We are here to bring Traditional Chinese Medicine (TCM) right to your doorstep by introducing you to a Noo world where old meets new, East meets West, and tradition meets modernity. Don't switch up your routine for us; blend it in harmony with NOOCI.