Noo Moon Bundle
Women's Daily & Menstrual Support
---
Noo Moon Bundle
Women's Daily & Menstrual Support
---
Balance your wellbeing with a bundle of ReNoo and Noo Moon to boost energy levels, stabilize hormones, and alleviate other menstrual cycle symptoms.

ReNoo
We mix Eastern traditions with Western practices to create ReNoo, an all-in-one supplement that blends your comforting daily brew or smoothie with a boost of wellbeing. Our proprietary plant-based formula hits you at the gut, lowering sugar cravings, decreasing daily bloat, and kick-starting metabolic rates. A cup a day of this green tea meets barley drink will leave your skin feeling radiant and fresh.
Benefits
Stimulates metabolism
Combats bloating
Boosts immunity
Lowers sugar cravings
Maintains healthy skin
Youthful aging
Noo Moon
Combining Traditional Chinese Medicine (TCM) with modern science to ease cramps and other PMS symptoms, reduce bloating, support irregular cycles, lift mood, and boost energy levels.
Benefits
Provides relief from cramps
Reduces bloating
Lifts mood
Renews energy
Eases PMS symptoms
Supports irregular cycles
ReNoo: Proprietary Blend: Fermented Soybeans, Green Tea Powder, Fermented Coix Seeds, Fermented Brown Rice, Sesame, Cinnamon Powder, Vitamin C, Rosemary Extract, Citron Extract, Gymnema Sylvestre Extract, Young Barley Leaves Powder, β Carotene, Acerola Powder

Noo Moon: Rose, Ginseng, Ginger, Jujube, Cinnamon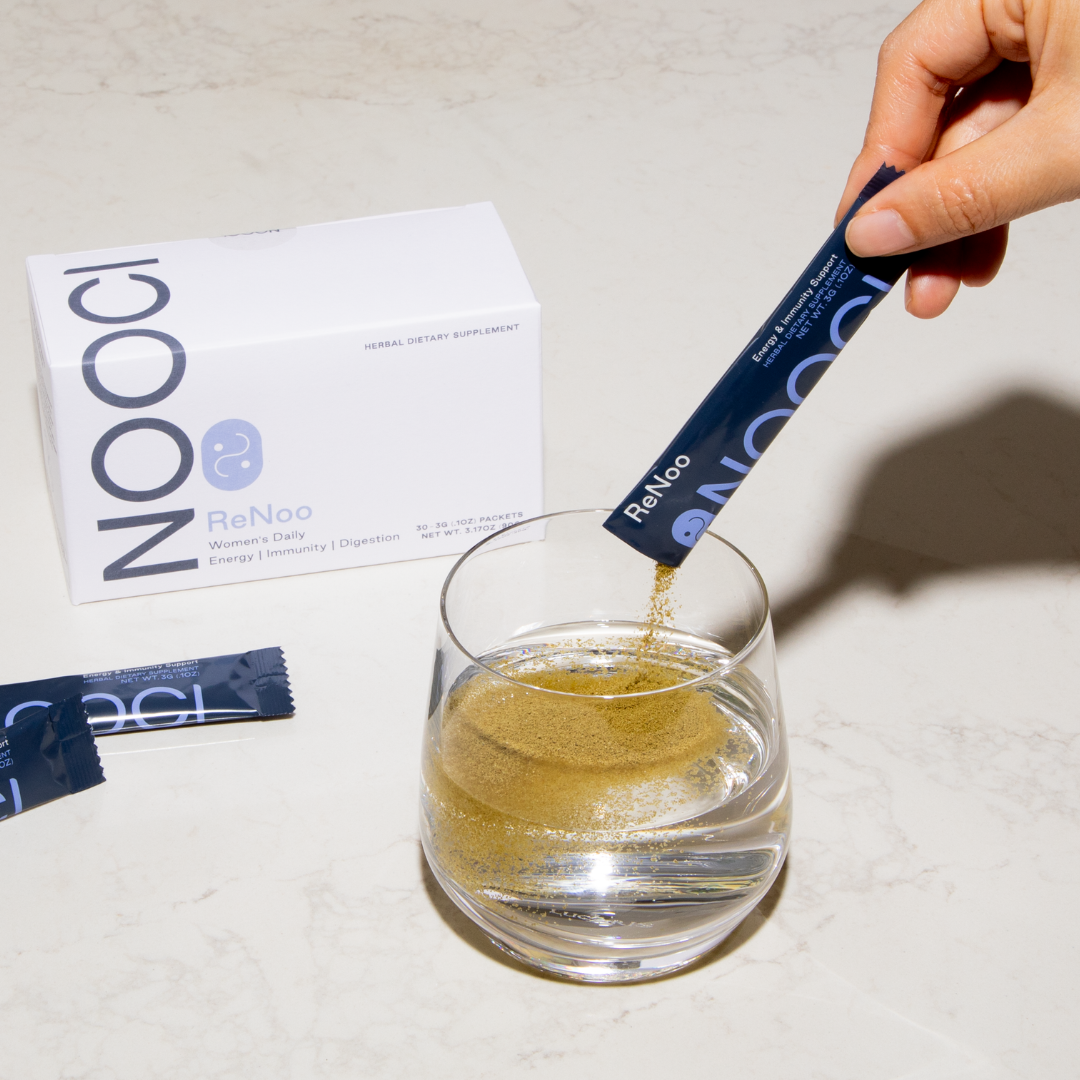 Boost Your Energy
Feel the extra boost of energy, digestion, and immunity with ingredients that make ReNoo even more powerful, while still retaining that subtle green tea taste, blending easily into water or your breakfast smoothie. Our proprietary, plant-based formula comes in single-serving packs that fit conveniently into your pocket, so that you can take ReNoo on-the-go with you for whenever you need an extra boost.
Benefits
Boosts energy levels
Lowers sugar cravings
Protects against free radicals and boosts immunity
Combats bloating and aids digestion
Maintains healthy skin and supports youthful aging
Clean Your Gut
Our doctor formulated 3-in-1 blend features ancient herbs, probiotics, and postbiotic to provide a holistic gut solution. These clinically-backed components work together to nourish your gut, aid digestion, minimize bloating, and enhance skin health from the inside out.*
Benefits
Eases bloating*
Regulates bowel movements*
Supports healthy intestinal and gut mobility*
Promotes good gut bacteria growth*
Promotes glowing skin and healthy blood circulation*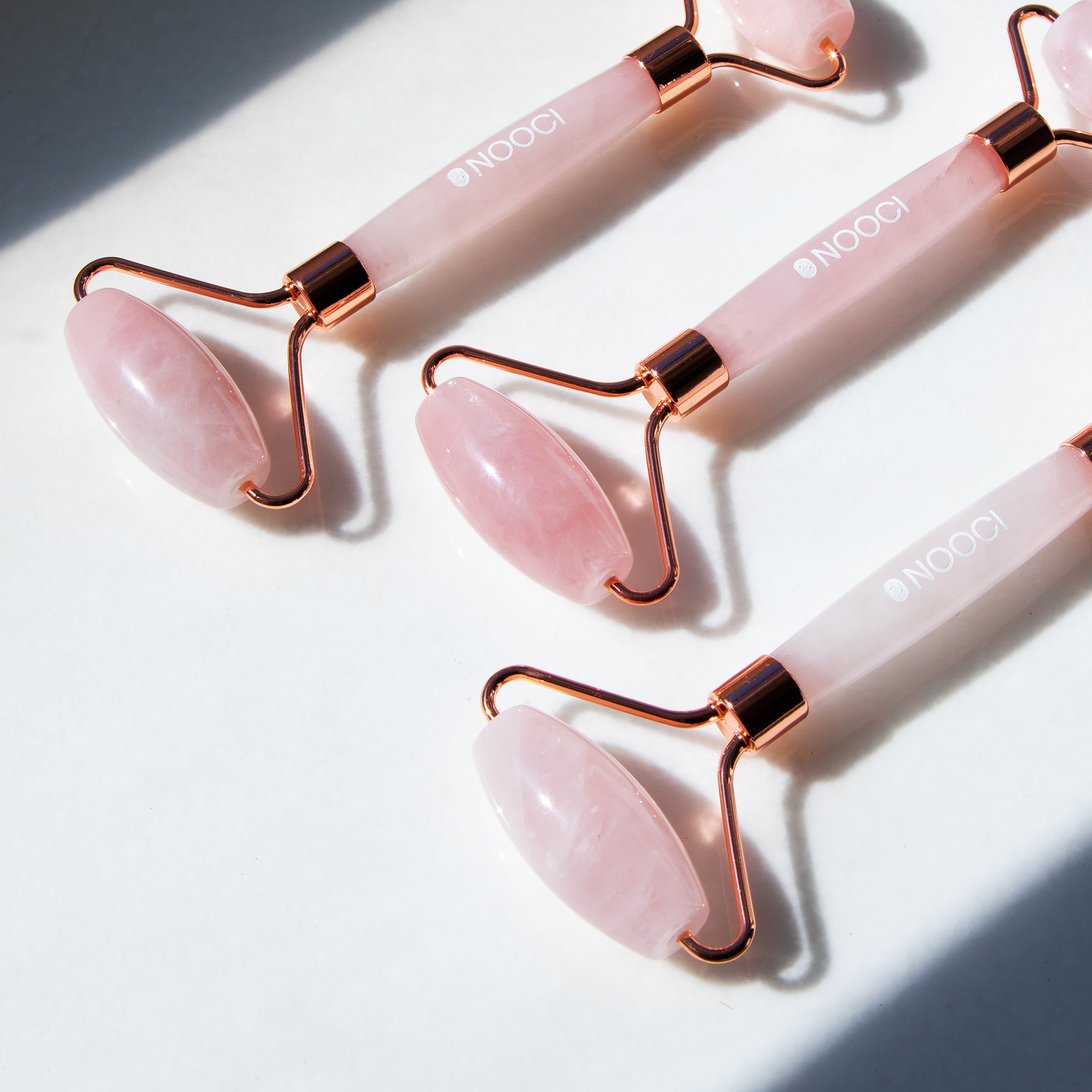 Benefits of a Rose Quartz Facial Roller
Rose quartz is a therapeutic stone that has long been associated with love, calmness, and healing, and our Rose Quartz Facial Roller can be used day and night to wake up your skin and help you unwind before bed. This stone is especially great for promoting qi circulation, detoxing, lifting, and softening fine lines. Unlike jade, which warms upon skin contact, this stone remains cool throughout use. Our Rose Quartz Facial Roller's cooling properties can produce better result such as:
• Stimulate facial qi circulation
• Promote lymphatic drainage
• Support anti-aging
• Improve skin tone + elasticity
• Calm inflammation + reduce puffiness

You May Also Like
Herbal formulas that work with your body to balance and restore.