Created by doctors, our proprietary non-drowsy, modern Traditional Chinese Medicine blend combines reishi mushroom, mint, and perilla leaves to clear nasal blockage, promote healthy airflow, and boost body immunity.
Promotes healthy airflow and eases congestion

Boosts immunity

Supports nasal allergy symptoms
Subscription Benefits
No long term commitment

Pause or cancel at anytime

Why You Must Try This
Natural replacement of your OTC allergy remedies

3 natural ingredients to help you breathe better

Non-drowsy formula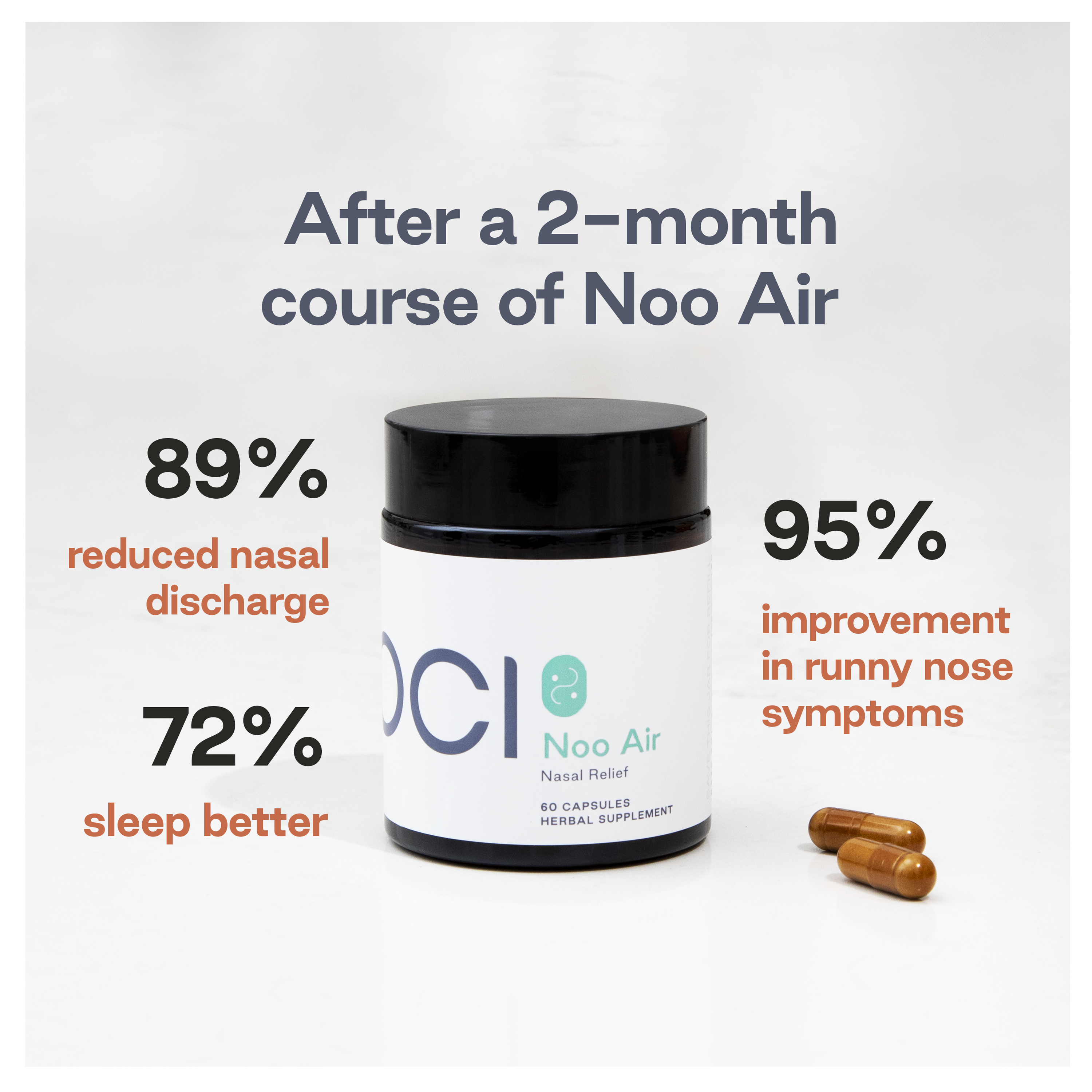 Our Clinical Study Results
100% of our 40 study participants reported experiencing 2 or more nasal symptoms prior to the commencement of the clinical study, with runny nose, nasal discharge, and poor sleep quality as the top 3 symptoms reported.
See What Experts Are Saying
"I really like NOOCI's products and their approach to formulations. My patients are always looking for easy solutions to maintain their well-being, which is why I recommend ReNoo - Women's Longevity. As a working mom with my own medical practice, my philosophy is less is more, and integrating easy routines is something I want all my patients to ingrain into their long-term health."

Dr. Wendy Wong

PhD, BCM

"As an Integrative Medicine physician, I am always looking for safe and effective treatments for my patients. Many prefer Traditional Chinese Medicine that is safe and natural. NOOCI does just that by providing effective herbal supplements that combine Traditional Chinese Medicine with modern science for relief from allergies (Noo Air) and painful periods (Noo Moon) as well as a wonderful remedy promoting overall wellness (ReNoo)."

Dr. Robin H. Miller

MD, MHS

"I am very excited about Nooci's modern TCM formulas.  So far I have found them to be great on their own as well as in combination with a classic patent or individualized formula.  For example, Re Noo with Gui Pi Wan or Bu Zhong Yi Qi wan can be a winning combination.  The same with Noo Air and Noo Moon. For example, I like Noo Moon for patients with deficiency and stasis patterns.  The individual ingredients are impeccably sourced so I feel confident recommending them."

Jillian L. Capodice

MS, LAC

Frequently asked questions
When is the best time to take Noo Air?

Noo Air can be taken at any time of the day.
Do I only take Noo Air when I feel congested?

To see long-term change from taking Noo Air Nasal Relief, we recommend that you take Noo Air consistently over a continuous period. The herbs work cumulatively, meaning each dosage works gradually towards restoring your qi balance to ease the various symptoms you experience, and eventually maintaining that healthy balance to help you remain symptom-free . It is okay to forget and miss a dose -- just take it as soon as you remember!
When can I expect to see effects?

TCM herbal practice is all about long-term maintenance and restoring balance (yin and yang energy) in the body. For some, it can take 3-4 weeks to feel effects, and for others it can take 6-8 weeks. It really depends on your body.

For best results, you should take your herbs daily to feel the accumulated effects.
Follow A Noo Wellness Path
We are here to bring Traditional Chinese Medicine (TCM) right to your doorstep by introducing you to a Noo world where old meets new, East meets West, and tradition meets modernity. Don't switch up your routine for us; blend it in harmony with NOOCI.
Reviews
Read what our customers are saying about NOOCI. Leave us a review and get 15% off your next order!
Choosing a selection results in a full page refresh.